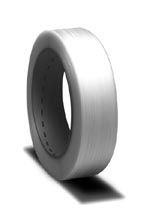 At Anasco we promote Signode Steel Strapping systems and supplies. As the leading provider of steel strapping systems since 1913, Signode maintains an aggressive approach to the design and development of protective packaging systems for products that travel by air, rail, road and sea.

At the heart of each of these systems is our Magnus® and Apex™ steel strapping. Each is specially formulated to meet the demands of a particular range of applications. To ensure the best performance of these strapping materials, Signode has also designed a full line of application equipment and accessories, including seals, hand tools, power strapping machines and dispensers. Please click on "Steel Strapping Equip & Systems" on the left to learn more.

Our sales, equipment service, customer service and engineering departments can help you design the optimum protective packaging system for your application.
We can't find products matching the selection.
Visit our Material Handling Site for:
Bins
·
Carts
·
Conveyors
·
Ladders
·
Lifts
·
Lockers
·
Racks
·
Pallet Equipment
·
Dock Equipment
·
Drums
·
Shelving
·
Scales
·
Mats
·
Safety Equipment
·
Fans
·
Warehouse Equipment
or Call 877-222-5747 Today!

Shop By
Shopping Options
Category